I realized the other day that we hadn't taken pictures of Emily for a long time- so I tried a few. She would smile great till I put my face behind the camera. Next time I need an assistant.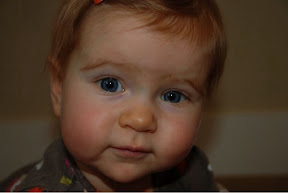 It's hard to believe but our little babe is 9 months old. She brings all of us so much joy. Nobody can get enough of her and, our little red-head defiantly doesn't lack attention. In fact she can hardly handle being alone.
When we go out she steels the show. People stop to talk with her, ask about her, or just tell me she is beautiful. I can't disagree. I forget how much attention babies can draw.
Greg thinks she is perfect and tells everyone she is the best baby ever. I tell him he only thinks she is so great because he never has to put her down to deal with everyone else. She likes to know someone is always close by - and Greg doesn't mind being that person.
She has 4 teeth, sits like a pro, and shows no interest in crawling - nothing new for an Easton girl. We love our little Emmy.