School has started again! Natali was so excited to get going again. She was ready to move to the other side of the school where the 4th and 5th graders have their classes. 4th grade has been great so far. She loves learning about our state's history, singing in the school choir, and her new teacher Mrs. Morris.
Mack was a little less excited to say good bye to summer, but he was excited to start 2nd grade with Mrs. Kinney. She was his kindergarten teacher and we were so excited that he could have her for second grade as well. He enjoys school but his favorite part is playing football at recess.
Andrew, as usual, was the most reluctant to start school. He originally told he he would not be going at all. I commented about how sad it would be that he would never learn to read all those animal books he pours over. Upon further consideration, he decided he would go to school till he can read, but then he won't ever go again. Luckily, he has loved his 1st grade teacher and goes to school without a fight everyday - a big thank you to Mrs. Parsons.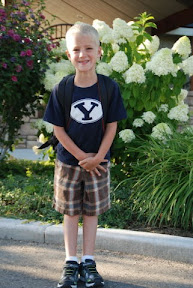 The big kids started school a week before Kate did and it was so hard for her to wait for her turn to come. She put on new clothes and fixed her hair before I went to help out in Andrew's class. When I came back she had changed her clothes (maybe more than once), taken out her hair, and was sprinkled all over with water, but she was raring to go. Her preschool is literally across the street. It is so convenient and she loves it.