Well it has been far too long. I won't attempt to catch up - at least not today. Here are some pictures from our last big trip of the summer. We drove up to the Seattle area to go to the temple, see killer whales, and check out a rainforest.
Here we are on our seven hour boat ride. Miraculously, all of our kids loved it. By the end of the trip everyone on the boat knew Natali by name and had discussed animals with Andrew. That boy loved the boat and wandered around looking at everything. After the first three hours has passed Greg and I started getting worried because we hadn't seen any whales and we knew we would have to turn around soon. The kids would be so devastated if this attempt to find whales failed. So Andrew and I went up on the top of the boat so we could have a better view. Suddenly, we spotted our first of dozens of whales.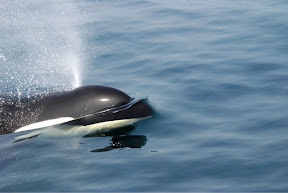 It was amazing. Picture and video can't capture it because they were coming up on all sides of the boat. Large males, small groups, babies, it was awe inspiring. I could have watched all day.
My favorite was when you could see them under the water and slowly follow them as they came up for a breath. The whale trip was a big hit. We didn't loose anyone overboard, the kids made friends, and we all had an amazing experience.
Next we were off to Olympic National Park! We took a little hike to see snow and look for mountain goats (no luck). But we did see a bunch of deer and some beautiful scenery.
Then we went to Hoh Rainforest. Wow! It was like a different world with huge trees, strange plants and weird animals.
The kids did pretty well as we hiked around for two plus hours. There were so many interesting things to look at.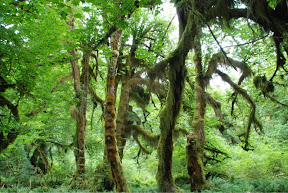 This was the biggest slug I have ever seen.
Roosevelt Elk - different from the kind you see in Yellowstone- they seamed out of place in the jungle.
Then we visited the beach. The kids loved it. Andrew and Mack were in up to the waist and happy as could be.
We found this starfish stuck to a dead crab. I was the only one brave enough to hold it.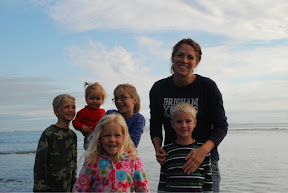 It had been a long time since the kids had played on a beach. I always love visiting the ocean. There is something so magical about the power of the water. I love the sound of the waves and the feel of the sand. It made me happy to watch my kids explore and enjoy that magic as well.
It took us a while to get everyone sand free before getting back in the van.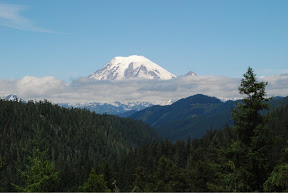 On the way home we got a great view of Mount Raineer.
All good things have to come to an end. We had a wonderful summer and this trip was a great way to end it.